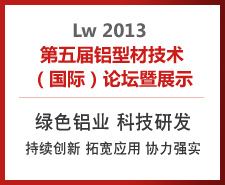 Lw历届铝型材技术(国际)论坛暨展示
Lw 2001 - The 1st Aluminum Profile Technology Seminar and Exposition
September 16-18, 2001
Theme:Aluminum extrusion – the past two decades & the next two decades
The first Lw2001 was held at the time when China's aluminum extrusion industry entered a critical stage after 20 years of astonishing developments, most noticeably in the Pan-Zhujiang triangle region, Guangdong province in the 80's, yielding more than 50% of China's extruded products, followed by the quick rise of the industry in the Changjiang triangle region and Bohai gulf region and coastal regions. There was a strong need for the professionals involved in the industry to get together to exchange the experience gained in the past and the outlook for the future.
The event attracted the delegates from all over mainland China,Hong Kong,Taiwan,Japan, theNetherlands,Malaysia, theUS,Italy,SingaporeandSwitzerland. 143 papers were collected in the conference proceedings, contributed by authors from the aluminum extrusion industry, the supply industry, design & research institutes, universities and professional associations. Selected presentations given at the event are as follows:
- Developments ofChina's aluminum industry towards the new century – Zhutang Wang
- China's aluminum industry – Zitao Wang
- Current status and trends of the theories and technologies applied to metal extrusion – Jingan Liu
- Developments of aluminum extrusion technology – Bowen Chu
- 75 MN aluminum extrusion press – Huiwu Cao, Fudao Guo
- Surface treatment technologies for aluminum extrusions in the past and in the next 20 years – Zufang Zhu
- The latest technology and equipment for aluminum extrusion and their developments inChinaand abroad - irong Li
- Developments of windows and doors in the past 20 years - Hai Wang
- Standards and quality of processed aluminum products – Lixing Ge
- Current status and development trends of aluminum melting and casting technologies – Jian Tang, Ping Huang
- Fundamentals and technology of melt purification – Gaoshen Fu, Jixing Tang
- The latest technology and equipment for aluminum extrusion – Lili Yi
- Optimum design of high-speed train body structure for light weighting – Yan Liu
- 6082 alloy extrusions for water transport – Wei Liu
- Key points in the planning of electrophoretic coating lines - Dongxing Wei, Shankang Zhao
- Infra-red radiant heat baking technology for aluminum extrusions – Shiming Ge, Gongyi Li
- Formation of micro-arc oxidation layer on aluminum alloy surfaces – Yongfong Jian, Junming Li
- Strength calculation of thermal barrier aluminum profiles – Wengzhi Rong
- Sustained developments of windows and doors – Mingxian Shi
- Introduction of International Aluminum Extrusion Seminar and Exposition, Yanxian Lou, Guicai Liu
- Introduction ofItaly's aluminum extrusion industry – Hongzai Chen
- Influencing factors in aluminum extrusion production - G.W. Dion
- Modifications of hot-top casting technology – B. Wilson
- Improvements in quantifiable quality and efficiency in aluminum extrusion plants – S.J. Rose, D.W. Busch
- Blast shot technology for aluminum extrusions – Vulkan
- Architectural powder coatings – M.F. Osmond
- Multi-color powder spray systems – T. Benken
- Electrolytic multi-color process – W.Dalla Barba
- Thermal-break aluminum profiles – Technoform
- Pour and debridge thermal barrier technology and energy-saving window and door systems – P.M Muessig
Some 70 companies from mainlandChina,Hong Kong,Taiwan, theUS,Germany,Italy,Switzerland,Korea,JapanandSingaporeparticipated in the exhibition, showcasing the state-of-the-art equipment and materials related to aluminum extrusion production.