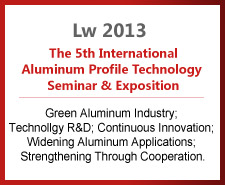 Lw Successive Forums Aluminum Profiles Technology (International) Forum & Show
Denotation of Lw
Lw is the exclusive logo of the Aluminum ProcessingTechnologyCenterinChina.
L stands for aluminum as the word aluminum is pronounced as Lǚ in Chinese.
W stands for the world in English.
The combination of the letter L originating from Chinese and the letter W originating from English symbolizesChina's integration with the world. Literally, Lw stands for the Aluminum World. Lw also signifies "Lead the Way" towards the sustained development of a green aluminum industry.
Lw's vision statement
Despite the young age of aluminum, relative to other metals, it is the world's second most used metal after steel. As the use of aluminum contributes towards energy-saving and environmental protection, it is a material of strategic importance for the society and has tremendous potential of further growth in the future.
Together with the domestic and international aluminum communities, Lw is striving to contribute towards the sustained growth of China's aluminum industry, as well as the sustained growth of the world's aluminum industry, by tapping the new potential of aluminum applications and promoting energy-efficient and environmentally friendly technologies.