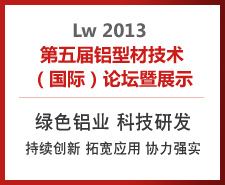 Lw历届铝型材技术(国际)论坛暨展示

Lw2016-Call for papers Download
Contents Download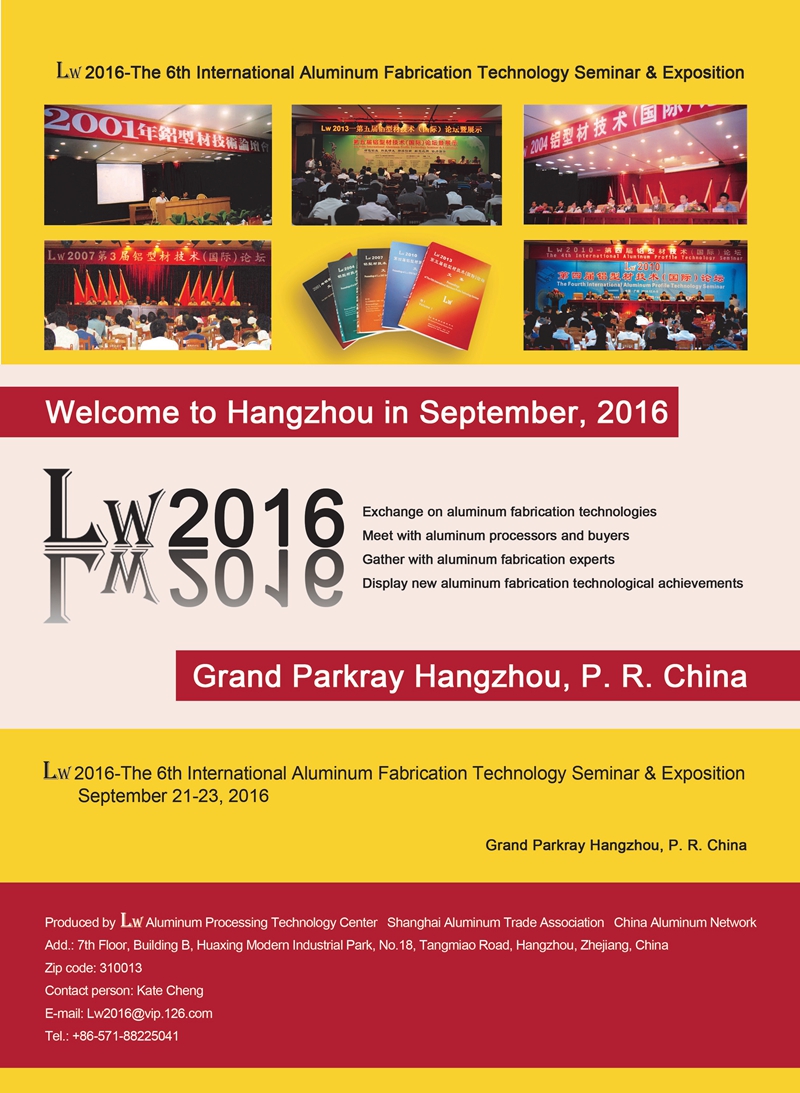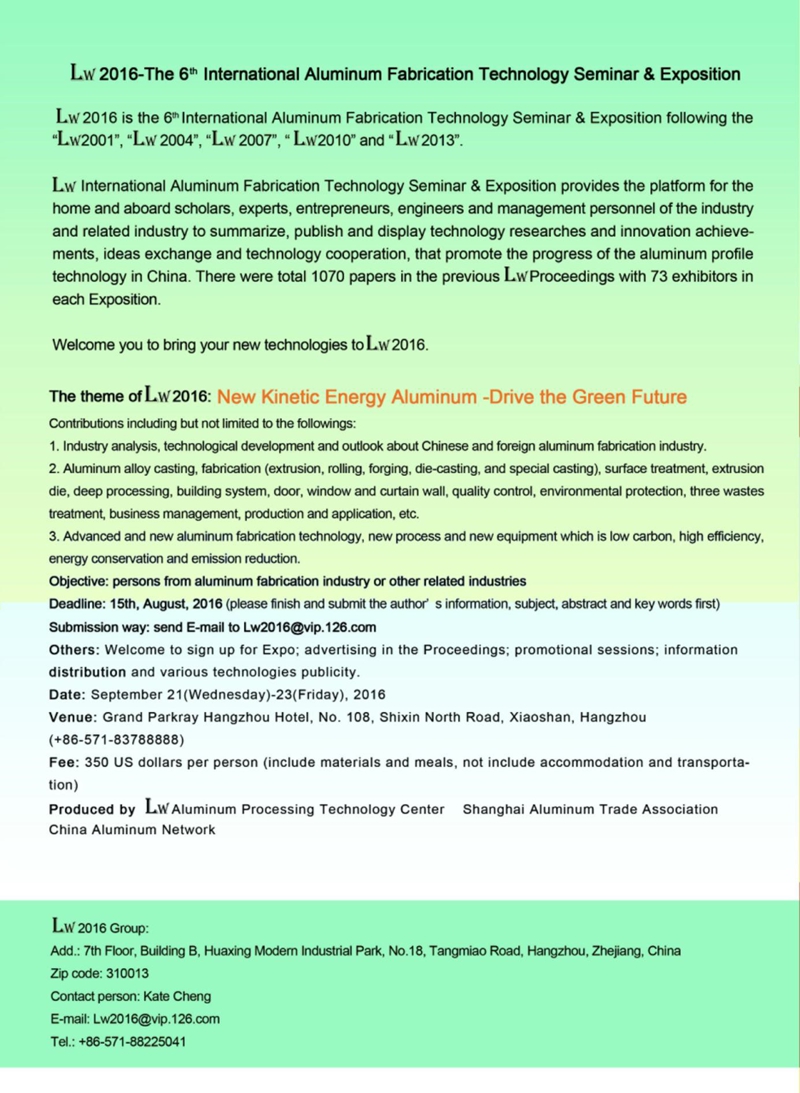 The 6th International Aluminum Fabrication Technology Seminar
Contribution Invited

After the successful host of "Lw2001", "Lw2004", "Lw2007", "Lw2010" and "Lw2013" now we have "Lw2016", namely The 6th International Aluminum Fabrication Technology Seminar & Exposition.

"Lw International Aluminum Fabrication Technology Seminar & Exposition" is "the platform for aluminum fabrication technical exchange", "meeting for aluminum fabrication manufacturing companies and buyers", "gathering of aluminum fabrication technical elites", "galaxy of aluminum fabrication new technical achievements" and "classroom for study and improve aluminum fabrication technology".
"Lw International Aluminum Fabrication Technology Seminar" provides a platform for Chinese and overseas scholars, experts, entrepreneurs, engineers and managers from this industry or related industries to summarize, publish and display technical research findings and innovation achievements; seminar for company and individual, technical cooperation, gathering of manufacturers and buyers, to promote progress and development of Chinese aluminum fabrication technology.
Lw2016- Proceedings of the 6th International Aluminum Fabrication Technology Seminar (hereinafter referred to as Lw2016 Proceedings), Lw seminar takes place every three years and started since 2001, now it has been already held 5 times. Lw2001 Proceedings, Lw2004 Proceedings ,Lw2007 Proceedings ,Lw2010 Proceedings , andLw2013 Proceedings totally collected 1070 pieces of technical papers from China and foreign countries. Every period we will prepare 73 booths for companies. (Please click http://www.lw-aluminum.com to download and conduct full catalogue research)
Welcome you to bring your new technological achievements to Lw2016
TOPIC:
New Kinetic Energy Aluminum-Drive the Green Future
Content:
1. Industry analysis, technological development and outlook about Chinese and foreign aluminum fabrication industry.
2. Aluminum alloy casting, fabrication (extrusion, rolling, forging, die-casting, and special casting), surface treatment, extrusion die, deep processing, building system, door, window and curtain wall, quality control, environmental protection, three wastes treatment, business management, production and application, etc.
3. Advanced and new aluminum fabrication technology, new process and new equipment which is low carbon, high efficiency, energy conservation and emission reduction.
4. New technique and process about circular using of resource in aluminum fabrication
Object: persons from aluminum fabrication industry or other related industries
Deadline: 15th, August, 2016 (please finish and submit the author's information, subject, abstract and key words first)
Delivery Ways:
Please send your paper to Lw2016@vip.126.com in the format of word
After review and edit we will print Lw2016 Proceedings. The excellent papers will be recommended to the journal from China Light Alloy Fabrication Technology (ISSN1007-7235, CN23-1226/TG), foreign journal LIGHT METAL AGE, (the United States, ISSN0024-3345), Directory of China Aluminum Enterprise 2017 and China Aluminum Suppliers 2017.
Other: Welcome to join as co-organizer, display, special lecture, color page and other technical recommendations.
Lw2016 Proceedings provides color page for company display, also has booth, special lecture, products promotion and information publish at the same time.
Date: 21st-23rd, September, 2016 (Wednesday-Friday)
Address: Grand Parkray Hangzhou Hotel, No. 108, Shixin North Road, Xiaoshan, Hangzhou (+86-0571-83788888)
Host: Lw aluminum fabrication technical center / Shanghai Aluminum Trade Association / China Aluminum Network
Lw 2016 Team:
Address: 7th Floor, Building B, Huaxing Modern Industrial Park, No.18, Tangmiao Road, Xihu District, Hangzhou.
Post Code: 310013
Tel: +86-0571-89937582/021-54483595/020-87700895
Contact:Wang Hongxia: +86-18958066002 Shen Yue: +86-13764376652 Wang Zitao: +86-18902287159