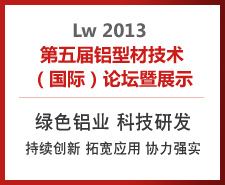 Lw历届铝型材技术(国际)论坛暨展示
Lw 2004 - The 2nd Aluminum Profile Technology Seminar and Exposition
November 7-9, 2004
The great success of Lw 2001 led to the decision to organize a series of events in the following years, with an interval of three years to allow the development and proof of new technologies relevant to aluminum extrusion.
The event in 2004 attracted an increased number of participants from mainland China, Hong Kong, Taiwan, Japan, the Netherlands, Malaysia, the US, Germany, Italy, Singapore, Korea, Canada, the UK, Spain, Belgium, Israel, Australia and Switzerland.
The conference proceedings collected 203 papers, including:
- Research to improved the quality of processed aluminum products – Jue Zhong
- Status and trends in the equipment and technology of China's copper and aluminum industry – Yuanqin Li
- Current situation ofChina's architectural aluminum extrusions - Fushan Shang, Nanming Wu
- China's aluminum extrusion industry – striving for technological improvements and integration with the rest of the world – Zitao Wang
- Current status and development trends of the aluminum industry inChinaand in the world - Wuzhuang Zhao
- 20 years of great achievements inChina's aluminum windows, doors and curtain walls – Qi Huang
- Development of the aluminum extrusion industry in the Yangtze Delta Area and outlook – Luyan Luo
- Limiting factors in the production of aluminum extrusions for structural applications – Li Pi
- Chinese market of aluminum profiles and outlook for the near future – Weidong Wang
- Development ofChina's aluminum recycling industry in the context of circular economy – Jiagong Wei
- Research on large aluminum profiles for passenger and cargo train body - Li Zhong, Guoqun Wang
- High-strength, high-toughness, corrosion-resistant 6xxx aluminum alloys and their applications in cable support frames – Jianguo Li
- Continuous log homogenization treatment – Daoxing Lin
- Key elements in the improvement of extrusion production efficiency – Shixiong Chen
- Inverse extrusion technology – Wenda Zheng
- Research and development of 125 MN oil hydraulic double-action extrusion line – Qun Zhang
- Analysis of the technological features of 100 MN double-action extrusion press - Bowen Chu
- 75 MN short-stroke extrusion press – the first of its kind made inChina- Yuxi Guo
- FEM simulation of isothermal extrusion to produce high-strength aluminum extrusions – Luoxing Li
- Online heat treatment of 6061 alloy – Changzhuan Wei
- Effect of temperature on extruded aluminum products and countermeasures – Keyao Wu
- Technology for high-precision aluminum tubes and their applications - Xiaoming Deng
- Outlook and strategies for the development ofChina's aluminum window and door manufacturing industry – Fengjun Bi
- Quality control in insertion thermal barrier profiles – Jian Qin
- Key technology in intelligent design system for zero-trial extrusion dies – Chao Lu, Tienyong Zuo
- Friction-stir welding for aluminum alloys – Kuaishe Wang, Xunhong Wang
- Brightening of aluminum extrusions – Yongguang Zhang
- Anodic electrophoretic coating on aluminum extrusions – Hongwei Shi
- Electrolytic coloring in tin slat for aluminum extrusions - Huaming Tan
- Fluorocarbon painting technology for aluminum extrusions – Zhaoqiang Zhang
- Waste water treatment in aluminum extrusion surface treatment plants – Zhiqiang Fu
- Energy-saving architectural windows and doors – Chun Wang
- Control and management of aluminum extrusion inventory – Huiguang Liu
- Aluminum extrusion industries inKorea- H.H. Cho, Y.H. Chung
- The analysis of aluminum and its alloys – Spectro
- The systems approach to aluminum extrusion and how to evaluate a production system - P. Robbins
- Aluminum extrusion technology – B. Shtarker
- Manufacture of profiles for transport use - G. Marin
- Computation of optimal extrusion process conditions – R. Mayavaram, M. Reddy
- State of the art front loading technology and new development – A. Bauer
- The perfect cut on modern extrusion presses – M. Crosti
- Front-loading technology with main tandem cylinder design for high precision extrusion presses – Tecalex
- Comparison between the production efficiency of the European and Chinese extrusion plants – B. Mancini
- Automated die polishing system – O.R. Kuzmanovic
- Werth Flatscope® – the state of the art profile projector - J. Bahlo
- Infra red die oven - A. Tellier
The successful event was reported in Light Metal Age and a magazine (アルトピア) published in Japan.